Sea views, shopping, good schools and much more are on offer in Bucklands Beach. Located just a 30-minute drive of Auckland's CBD when avoiding peak hour traffic.
There is no shortage of beaches for residents to choose from – the most popular are Eastern Beach and Little Bucklands Beach. Take the popular boardwalk from Little Bucklands down to the neighbouring suburb of Half Moon Bay to enjoy the Marina. Here, you'll find the Ferry services linking you to downtown Auckland and Waiheke Island as well as the well-positioned shopping centre – full of wonderful cafes and restaurants.
Musick Point at the tip of the Bucklands Bach peninsula will provide panoramic views of the Hauraki Gulf – with the city towards the west, the islands situated to the north and if you time your visit right you might even see the sun setting behind Rangitoto Island.
The majority of housing stock in Bucklands Beach was constructed between 1970 – 1979. With 93% classed as residential housing. The area has become a popular location for developers due to its proximity to several great school zones, excellent access to beaches and the nearby marina.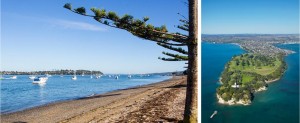 .